Ryukakusan Throat Refreshing Tablet
Ryukakusan Throat Refreshing Tablet Honey Lemon Flavor
Ryukakusan Throat Refreshing Tablet Honey Lemon Flavor contains Ryukakusan's herbal powder. A sugarless tablet containing throat refreshing microbeads.
Characteristics
Ryukakusan's herbal powder blended in a tablet.
Microbeads set inside the tablet spreads inside the mouth providing honey lemon flavored refreshment.
"Watering Flavor" having moist feeling added.
Contains xylitol, sugarless.
A tablet type to take anytime, anywhere, whenever you want to get refreshed.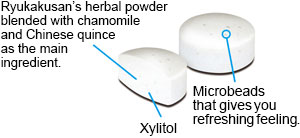 Nutrition Information (10.4g / Package)
Calorie:31.6kcal , Protein:0.01g , Fat:0.16g , Carbohydrate(-Sugars):9.83g(-0g), Salt equivalent:0g  *Xylitol 0.3g
Product Name ・ Ingredients
Product name : Freshening confectionery
Ingredients: Herb powder / Sorbitol , Sweetener(Xylitol) , Flavor , Sugar Fatty Acid Ester , Colorant(Safflower) 
Volume:10.4g
>Promotion Site