Developed by using The Dynamics of Poweder
Throat medicine, " Ryukakusan" measuring spoon has three big holes!
Throat medicine "Ryukakusan" (Third-class OTC medicine) has been manufactured and sold by Ryukakusan Co., Ltd.(Chiyoda-ward, Tokyo). This was developed by Dr. Genen Fujii who was the doctor of Satake clan, back in the Edo period. Since then, this medicine has been helping to soothe people's throats and beloved by public for over 200 years.
To accommodate customer's needs, Ryukakusan renewed the attached measuring spoon to a user friendly design. While it seems a small change, the ease of use has improved significantly.
With the current spoon, the powder didn't fall off entirely from the spoon, even the spoon is made upside down completely.  There were some complaints from customers.
The newly designed spoon has three holes on the bottom based on the mechanics so called "the dynamics of powder". The number of holes, their sizes and angles were meticulously calculated.  The powder falls into the mouth quickly, but it will not fall from the holes when the user scoops up the medicine.
The development of this new spoon was published in the scientific journal paper (Pharmaceutics Vol. 77, (3) 164-176(2017)).  The design registration has already applied.
Along with the above change, Ryukakusan made additional improvements such as label description, and easy to open inner box.
We are committed to make further improvements, a large or small, contribute to keep people's throats healthy.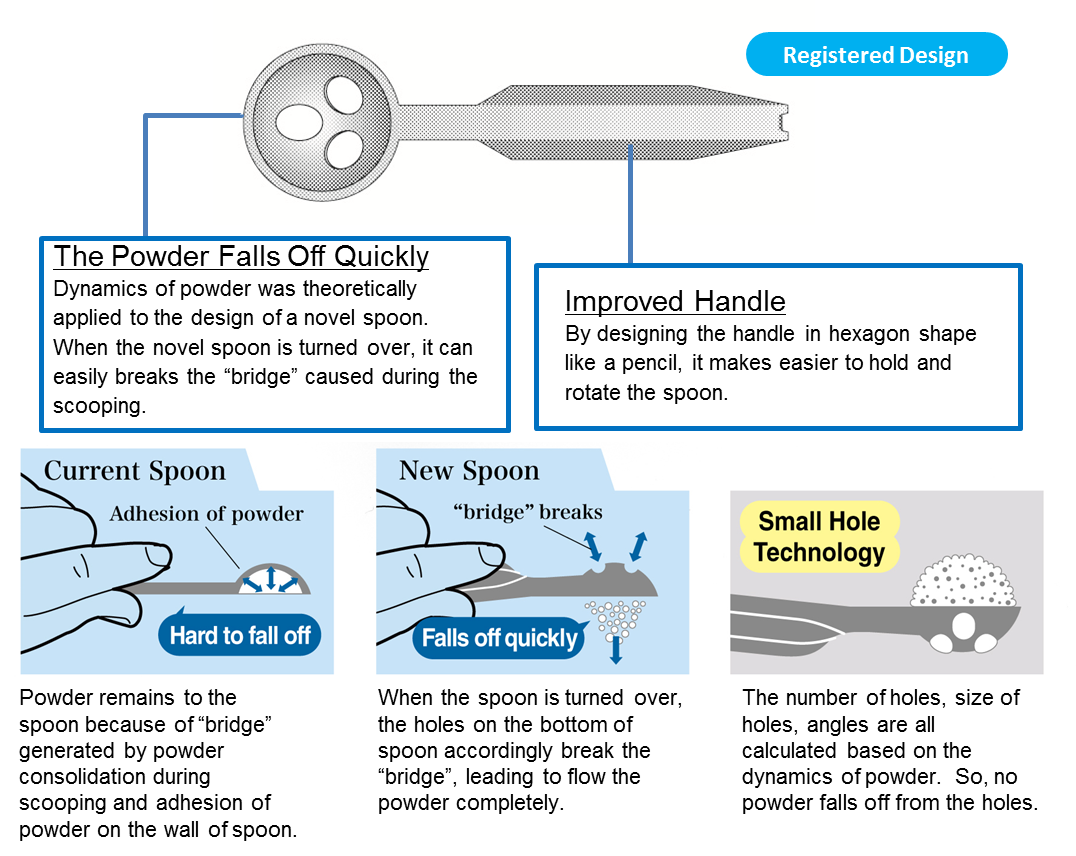 ● Product Name
Ryukakusan (The third class OTC medicine) 
● Product Description
"Ryukakusan" is the medicine that contains herbal medicines (platycodon, senega, apricot, licorice), which specifically activate the antitussive and expectorant functions in the throat. 
By taken without water, the herbal ingredients directly effect on the throat cilia, and ease cough, phlegm, hoarse voice,and throat irritation.
● Efficacy/Effectiveness
Hoarse voice, sore throat, throat irritation, pain and swelling caused by cough, phlegm, or Inflammation of the throat
● Manufacturers' Suggested Retail Price (Excluded Tax) 
- 20g : JPY    780  
- 43g : JPY 1,400
- 90g : JPY 2,260
● About producut detail>>> https://www.ryukakusan.co.jp/promotion6/en
※ There is no change on ingredients/quantities, dosage/dosage regimen, unit size, or price along with this change.
※ Information in this news release is current as of the timing of the release, and may not reflect the latest one.